DISBURSEMENT
Subject to Paragraph (e) of section 7, the moneys received by the Fund from mineral royalty payments made to the Ghana Revenue Authority/ Minerals Income Investment Fund shall be Disbursed as follows:
a. Fifty percent (50%) of the moneys shall be allocated to the office of the Administrator of Stool Lands and disbursed as prescribed by law;
b. Twenty percent (20%) of the moneys shall be allocated to the Mining Community Development Scheme;
c. Four percent (4%) of the moneys shall be allocated to supplement the mining operations of the Ministry;
d. Thirteen (13%) percent of the moneys shall be allocated to supplement the mining operations of the Minerals Commission;
e. Eight percent (8%) of the moneys shall be allocated to supplement the mining operations of the Geological Survey Department;
f. Five percent (5%) of the moneys shall be allocated for research, training and projects aimed at the promotion of sustainable development through mining of which at least forty (40%) shall be allocated to the Ghana Geological Survey Authority.
The administrative and other expenses related to the management of the Fund shall be charged on the Fund and it shall not exceed two percent (2%).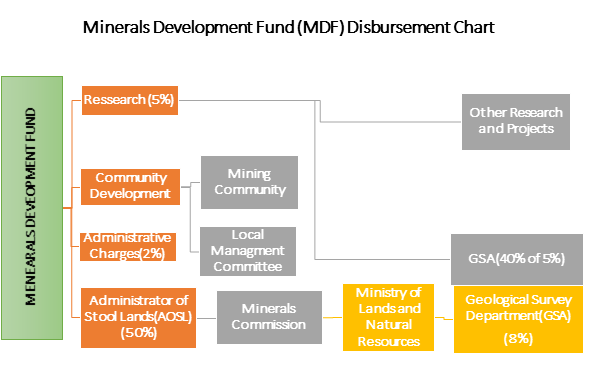 UTILISATION
Subject to the disbursement formula as prescribed in the MDF Act, 2016 (Act 912) Section 7 (e) further mandates the MDF fund in consultation with the Minister of Lands and Natural Resources, prepare and publish in a daily newspaper of national circulation the criteria for the utilisation of the moneys from the Fund.
In accordance with the foregoing, the Utilisation of moneys disbursed to the various MDF beneficiary Agencies as prescribed in the Act.912 shall be as indicated below;
NO.
INSTITUTION
UTILISATION
            1
Office Of The Administrator Of Stool Lands
To supplement the operations of the Office of the Administrator of Stool Lands (OASL) as indicated in the OASL Act, 1994 ACT 481 which states that;

i.  Ten percent (10%) of the revenue accrued from stool lands shall be paid to the office to cover administrative expenses

ii. Twenty-five percent (25%) to the stool through the traditional authority for the maintenance of the stool in keeping with its status.

iii. Twenty percent (20%) to the traditional authority; and

iv. Fifty-five percent (55%) to the District Assembly within the area of authority in which the Stool Lands are situated.

2
Minerals Commission
To supplement the Mining related operations of the Minerals Commission, empowering them to efficiently and effectively regulate, manage and utilize Ghana's Mineral Resources as mandated in the Minerals and Mining Act 2006, ACT 703.
3
Ghana Geological Survey Department
To supplement the Mining related operations of the Ghana Geological Survey Authority specifically in the area of conducting research to discover new Minerals as mandated in the Ghana Geological Survey Authority Act 2015, ACT 928
4
Ministry Of Lands And Natural Resources
To support the Mining related operations of the Ministry in the area of monitoring and policies that will enhance Mining Development in the Country
5
Administrative Charges ( MDF Secretariat)
To support administrative, operational and other related expenses in pursuance of the management of the Fund.
6
Research
For research, training, and Projects aimed at promoting sustainable development through mining.
7
Mining Community Development Scheme
To facilitate the socio-economic development of communities in which mining activities are undertaken and that are affected by mining operations.